Military Defense Investigations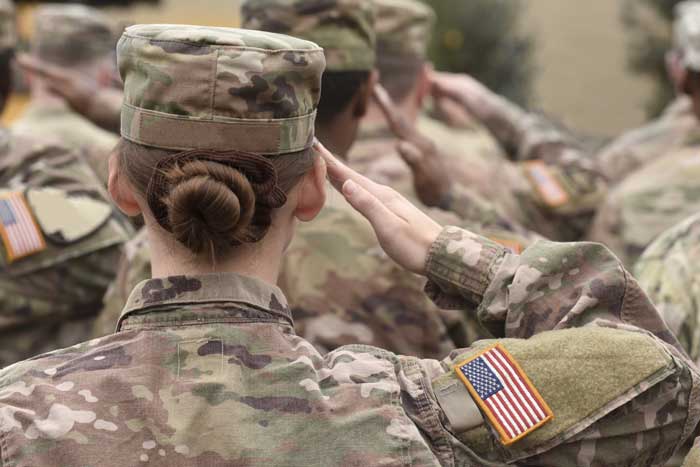 At Richter Private Investigations LLC, we do not take your honorable military service to this nation for granted. We know and experienced what it means to face adversity, danger, and make personal sacrifices. Do not let the government succeed to forfeit your hard-earned post-military benefits and handicap your professional future with an other-than-honorable (OTH) or dishonorable discharge / dismissal from military service.
Our team has investigated hundreds of complaints involving offenses under the Uniform Code of Military Justice (UCMJ) and U.S. Federal statute, including sexual assaults, death incidents, fraud, aggravated assaults, domestic violence, child abuse, narcotic, property crimes, kidnappings, cybercrimes, and other criminal offenses. Be assured our team is very familiar with the military criminal investigation and military justice system in all six branches of the U.S. Armed Forces: U.S. Army, Navy, Marines, Air Force, Coast Guard, and Space Force.
We have worked with and trained some of the government investigators that purport to be your advocate in fact-finding and to brief your commander. Their work is not to advocate on your behalf but to substantiate the allegations made against you. You will be surprised to find out that military commanders and peers no longer have your back, and you will no longer be able to find an entrusted peer or supervisor to confide in. We are committed to standing behind you to be the unbiased factfinder and shed light on an ongoing or completed inquiry against you. Regardless of whether you are stationed at military bases outside of Georgia and Texas (our primary area of practice), give us a call for a free consultation or have your chosen lawyer or military defense attorney contact us. We will go to work for you the minute you agree to retain our services, no matter how minor or significant the facts may seem.
Our services include on a case-by-case basis:
Case Review and Analysis
Physical Evidence Review and Determinations of Lack of Evidence
Factual and Reasonable Analysis into Corroborating and Refuting, Inconsistent, Biased, and False Facts
Re-Visit and Secondary Examinations of Incident Locations
Background Checks
Locate Witnesses
Interviews of First, Second, and Third Degree Witnesses
Obtain and Review of Records and Physical Evidence Ignored by Law Enforcement
Provide Investigative Expertise During Judiciary Preparation & Proceedings
Witness Testimony at Court and Administrative Hearings
As soon as you know that you are the subject to a criminal investigation, commander's inquiry, inspector general, or administrative inquiry, reach out for help! Contact us if you have received documents indicating an adverse administrative action or preferred charge(s) for a General, Special or Summary Court-Martial. At other times military service members may also face trial in a criminal and civil judicial proceeding at state or federal court. We will not waste your time but get to work to find the facts and evidence. For most who are subjected to a military inquiry, it will be a single encounter. Looking back, you wish you had known someone who was available to help you!
Here are a few takeaways from professional experiences and previous clients: Military criminal investigation organizations (MCIOs) such as NCIS, Army CID, Air Force OSI, or CGIS are challenged to handle dozens of cases simultaneously and to retain an experienced workforce which both could affect the outcome of your investigation. Further, given the nature of the complaint by your accuser and the criminal offenses involved, the investigations will center around the date/time of the incident(s) but often discard fact-finding to outline the totality of circumstances – before, during, and after. Many facts and investigative leads are ignored surrounding circumstantial and cumulative evidence but are equally and incredibly important. The procedure seems disturbing and concerning, but more so leaves you at a disadvantage because the investigations center around the reported crime victim(s), focusing on proof the accused committed the alleged or other offense(s). Unless there are obvious and more than apparent facts available that would indicate your innocence, or that the accuser omitted, contradicted, or blatantly made a false accusation – the investigation will likely not document these circumstances.
Time is of the essence! Usually, when your commander informs you of an adverse administrative action or court martial, the investigation is long completed. By the time you have been notified of judicial and non-judicial adverse proceedings, the government is prepared for legal action(s) and will grant you a limited period only for preparation. It places you, your civilian legal counsel, and your military trial defense lawyer in a disadvantage, regardless of how committed he/she is to represent you and to establish your innocence. The military environment is highly transient, in which witnesses leave the military or change duty stations. The peers you relied on to speak on your behalf will be gone.
More so concerning is that memories into facts diminish over time, physical evidence is lost forever, and former incident scenes are contaminated and altered. It is essential to capture thoughts, observations, evidence, and facts when they are fresh. Lastly, expanding on the thought of seeking help from a military trial defense counsel (TDS). You may learn that TDS will not be available at your disposal immediately regardless of their tireless efforts to represent your interests. The truth is that military defense lawyers will not have access to the case facts until the convening military authority decided on the disposition of your case, whether to dispose through judicial or non-judicial proceedings (NJP). By that time, months or even years have passed. It leaves you at a vulnerable position to locate witnesses or locate evidence to prove your innocence. Do not sit around and wait – we will never tell you we cannot help or are too busy.
We serve Texas Vets, Soldiers, Marines, Sailors, Airmen, Coast Guardsmen, Guardians, Reserve, and National Guard: Camp Bowie Army Base, Camp Mabry, Austin, Fort Hood, Killeen, Fort Bliss, El Paso, Dyess Air Force Base (AFB), Abilene, Fort Sam Houston, Joint Base San Antonio, Lackland AFB, Randolph AFB, Goodfellow AFB, San Angelo, Sheppard AFB, Wichita Falls, Laughlin AFB, Del Rio, Corpus Christi Army Depot, Naval Air Station Corpus Christi, Naval Air Station (NAS) Fort Worth Joint Reserve Base (JRB).
Georgia: Marine Corps Logistics Base, Albany, Naval Air Station (NAS) Atlanta Navy Base, Marietta, Kings Bay Submarine Navy Base, Kings Bay, Moody AFB, Hunter Army Airfield (HAAF), Robins AFB, Fort Stewart, Fort Benning, Fort Gillem, Fort Gordon, Fort McPherson, Dobbins AFB.